Electronic Safe Time Guard v.0.3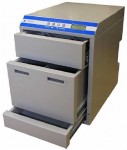 it's safe deposit box, access to cells which can be obtained only after a pre-programmed time after activating an electronic safe. The use of electronic safe actual for ensure the safety work as a cashier in currency exchange offices, cash desks of the bank, gas stations and supermarkets. When equipped with an electronic safe workplace cashier's attack on him is meaningless – the attacker is useless to demand immediate opening an electronic safe.
Use modern methods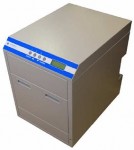 equip cashiers workplace cash registers with a time delay. The housing is made of an electronic safe
cold rolled steel with a thickness of 2 mm, also provides anchorage to the floor and the ability to connect to the security system of the bank – the presence of a remote alarm button to lock the electronic safe and alarm to security control board.
Main characteristics
| | |
| --- | --- |
| Number of boxes | 3 |
| Upper-box | box for banknotes |
| middle-box | collector box |
| lower-box | for documents and stamps |
| Work indication | LCD display with backlight |
| Sound work indication | Buzzer |
| Time delay for opening | from 0 to 360 seconds (5 seconds step) |
| Input "alarm button" | Yes |
| Locking cash from alarm button | 30 minutes |
| Output to security alarm (relay) | Yes |
| Connector for Ethernet | Yes |
| Connector for USB | Yes |
| Memory capacity | 9000 events |
| Number of cards | 5 |
| Cashiers cards | 3 |
| collectors card | 1 |
| Technicians card | 1 |
| Battery life | not less than 24 hours (200 opnenings) |
| Locks | Electromechanicals |
| Power consumption | 75 Wt |
| Supply | 100-260V/47-64 Hz |
| Overall dimensions | 450х600х650 |
| Weight | 70 kg |
| Warranty | 2 years |
| Delivery package | electronic safe, network cable, 5 cards |
Distinguishing features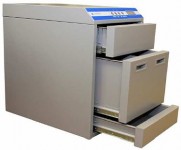 The base of an electronic safe is equiped with weighted chuck for mounting the product on the floor.
LCD display area is protected from penetration in the case of mechanical failure of the latter.
The housing has an ergonomic design with no protruding parts and sharp edges.
Drawers are equipped with fully sliding roller guides with increased strength.
Drive of the lock and latch mechanism located at the rear of the electronic safe and protected by an additional sheet of metal and encased or covered.
Electronic safe is equipped with vandal resistant stainless steel buttons.
The rapid opening of any box through collectors proximity card (unique for each product).
Uninterrupted power supply system, designed for 24 hours of work, with the ability of capacity increasing by 2 times.
Real-time clock, perpetual calendar, display the current time and date.
Operational display opening / closing shifts, all modes of operation of the electronic safe on the LCD display (4 lines of 20 characters) with backlight.
Activating of the start and end of the working day by cashiers proximity card (unique for each product).
Event logging of electronic safe latching event code, date, time, serial number, proximity card cashiers, collectors, technicians, connection time and the loss of a compound of ports USB, LAN, opening and closing drawers in delayed mode and without.
Locks have a wear-resistant electric drives with increased service life and protected from moisture.
Closing/opening sensors of each of the three boxes.
Synchronizing the date and time setting functions, reading log via the USB interface and LAN.
Separate independent discovery of all three boxes pressing the corresponding button (time delay set by the programming device).
Canceling the time delay opening by pressing corresponding button.
Emergency (keyless) opening boxes by the service staff, including during a power failure.
The possibility of rapid programming modes of the device with the entrance to the service menu by technical staff proximity card.
Storing in a memory card all the technical staff.
Keeping in memory all the technical cards sound proof when entering modes and menu items.
Blocking all the boxes for 30 minutes in the case of an alarm with an alarm button or keypad.
Opening the box collector with only two cards – the cashier and collector.
Documentation

Time Guard Electronics safe v.0.3